1/14/2008 - Holidaying in Cambodia 07-08 (sans plongee)
This is a definetely "dry" part of wet and dry.
This is a work in progress for now - having issues accessing remotely my copy.
Trip Report - SACD - Cambodia Discovery -
Imaginative Traveller - New Year 2007/8
Sunset atop Mt Bokor. Young boy at the Golden Temple
Day 1
Flew into the old aeroport – now the domestic terminal (I had just spent a week diving so was flying back to Bangkok) and was met by an Imtrav rep. New World Hotel has a great location and good rooms. Unfortunately when I arrived my "roomie" had not left the key downstairs (attitude which was to be representative of the trip). Finally into room and showered but in the dark - hahaha. Decided not to lug my dive gear for the trip and left it downstairs ($1AUD a day). Quick trip to backpackerville and Kao Shan Rd. Decided to eat safe (Subway) as I didn't want to chance being ill for a day of bus, tuk tuk, border crossing, pickup trucks etc.
Only second ImTrav trip where I was the only Australian – other was Siwa Oasis Tour in Egypt. Too many UKers on this trip by a long margin – no offence intended but 9 is a lot. I spent most of my time with Katie and Jim from Germany.
Jay (M) - UK
Shaun (M) - UK
Janet (F) - UK
Anthea (F) - UK
Liz (F) - UK
Alma (F) - UK
Rickie (F) - UK
Irene (F) – UK
Katie (F) – German
Natalie (F) – German
Jim (M) – German
Ben (M) – German
Me (F) – Australian
Jess (F) Tourleader – UK
Jim, Katie and Jess somewhat worse for wear post border crossing into Cambodia.
Day 2
Did the border crossing thang – surprisingly it wasn't through the border in the intinery but the one that allows EVisas (after Im Trav had specifically said DO NOT GET AN EVISA) $55 AUD courier fees for nothing because some travellers don't read the literature it seems. Jess had told us that it can take hours to get through the border but luckily there were no lines and we shot through and even had time for lunch in no man's land. The longest part was getting the visa stamped, 3 separate stamps J after that we were ferried to the pickups. Turned out that the pickups were really Utes with no seats – not what was intimated in the literature. No matter – I chose to sit inside. Personally I think that travelling at over 100km on unsealed roads in the back of a ute is insane – but others seemed to have a good, if not a little sore and dusty, time.
We arrived late afternoon at the Star Hotel in Battambang (pronounced Bat-tam-bong). The Star was fantastic – the best hotel of our trip. Upon arrival we were gifted a scarf too – just lovely. A quick walk around Battambang downtown showed that it wasn't a poor town, but it wasn't "affluent" though there were definite signs of high affluence. Dinner at the hotel was a relaxing relief after a big day.
Needless to say, our pitstop in a small country town brought out some curious local kids.
Day 3
Huge day!!!
I was up before dawn and headed down to the river. I saw the markets being set up as well as seeing the city wake up, heading to school/work.
Jess had told us that she could organise a day of exploration for us, giving us an insight into rural life in Cambodia as well as understanding the depth and spread of the Khmer Rouge. We all were up for it.
We visited small villages around Battambang and saw rice being grown and harvested, how rice is processed, rice paper being made, sticky rice being made, visited a fishing village (oh for a camera that catches the smell) and took a ride on the bamboo train. We also went to a Buddhist temple that also contained a stupa (shrine for the dead), walked up to the Killing Cave used by the Khmer Rouge and I had a reaction to lunch (bleurgh). Luckily I was only ill for around 4 hours and pushed through (thankyou Mongolia for teaching me that you never go out without the toilet pack!)
New Years Eve dinner was at the White Rose – great food but such a small menu! I had Spring Rolls and Vegetable Stir Fry – YUMMO! Oh yeah and the shakes were incredible.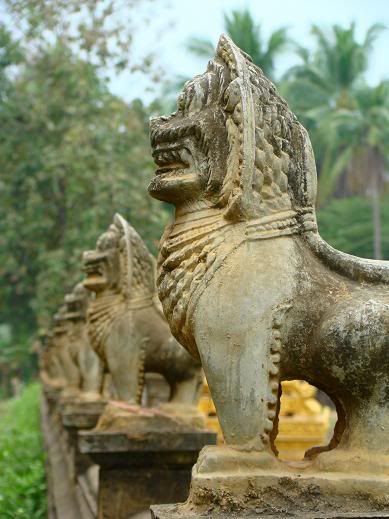 Lions along the wall of local temple in Battambang.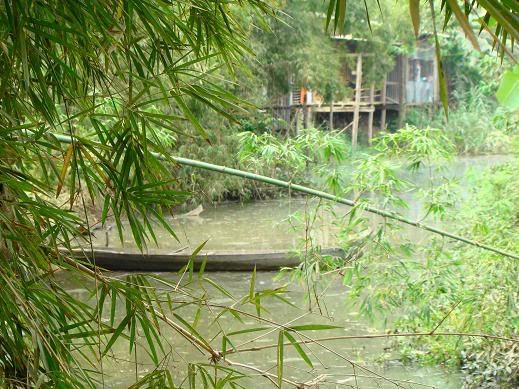 Village life outside of Battambang.
Those robes are trickier than they look! Young monks outside Battambang.
View en route to the Killing Cave outside of Battambang.
Sticky rice being made in a village outside of Battambang.
Stupa in temple outside of Battambang.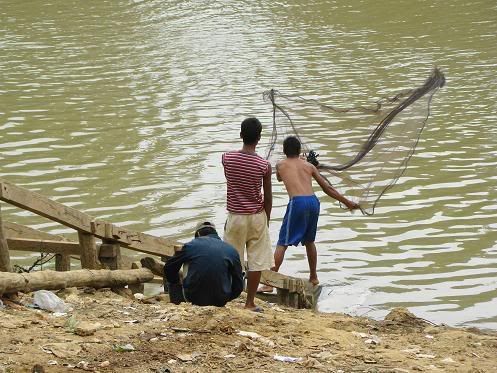 Local villagers fishing just outside of Battambang.
Amputee Garbage Collector by the river in Battambang.
Breakfast stalls in the main market - Battambang.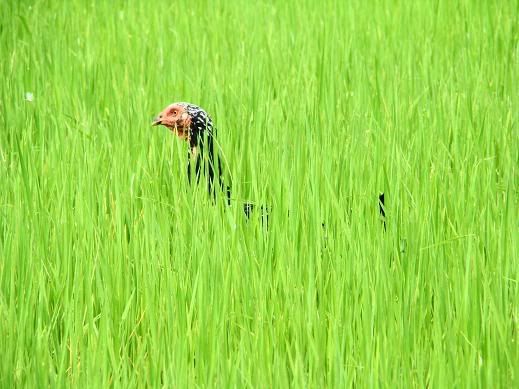 Rice with Chicken anyone?
Morning along the river in Battambang.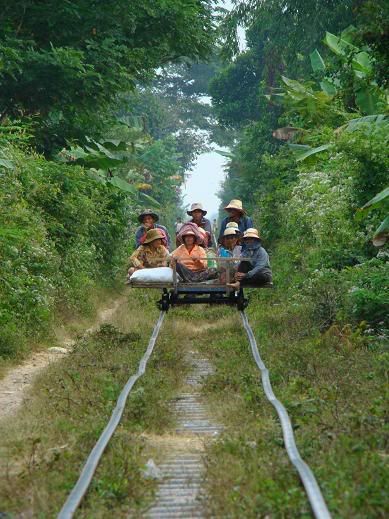 The Bamboo Railway in Battambang.
Riceworkers outside Battambang.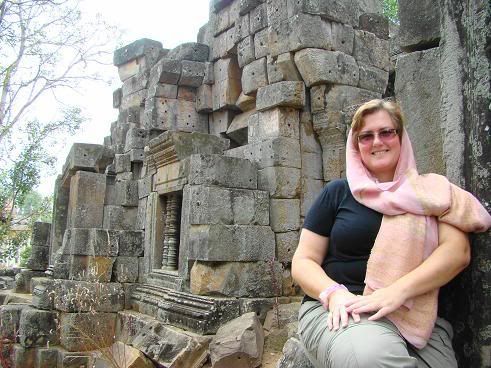 Me at ruins outside of Battambang.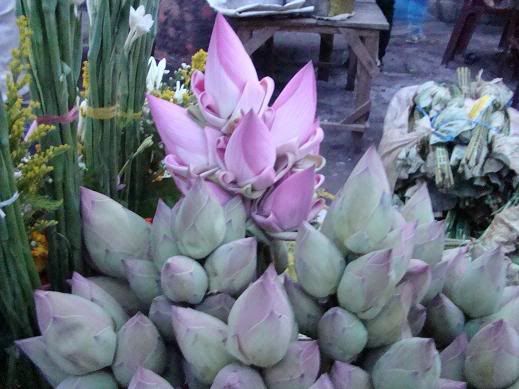 Dawn flowers at the market in Battambang
Day 4
Not to be repeated. "Travel by boat to Siem Reip." Translation 8 hours at an average speed of 6 knots. I was lucky as I got to spend 75% of the trip on the roof.
It was interesting, and I got some good shots but it was 5 hours too long. I think in the wet season when the fast boat is running it might be better – it was just too long.
The poverty on the river was noticeable but nothing compared to arriving at the "docks" at Siem Reip. Children ran up and were fighting over our bags of rubbish. Tuk tuks were everywhere but thankfully we were met and taken to the hotel. Unfortunately the Bunrath guest house was the WORST accommodation I have ever stayed in as part of ImTrav – Ok – well ever.
It was "just" clean – however the curtains and walls were covered in blood smears - people killing mosquitoes – which abounded in our room – so much so I went and bought some bug spray as the hotel didn't have any. I cannot believe how bad the hotel was. There was barely water pressure but it was near a Caltex.
Found an awesome restaurant in bar street in downtown Siem Reip. Was just near Klick – I think it was called "Famous Bar" come for the food stay for the cheap cocktails (two for $3). The food was a little slow but the service and cleanliness was excellent.
On the way back, I stood on a wonky piece of concrete over a drain and down I went – down the drain. Scary. My left food hit water and I was hanging onto the moving concrete slab trying not to fall all the way in. Thankfully some tourists in a tuk tuk saw me and they pulled over. The driver stood on the slab and the tourists pulled me out.
Interesting evening to say the least. I had decided to have dinner alone after 4 days of constant contact with the same people. If something had gone wrong, I don't know how long it would have been till someone found me. Certainly I would have been missed by late that night, but how do you find someone in a drain under a slab of concrete?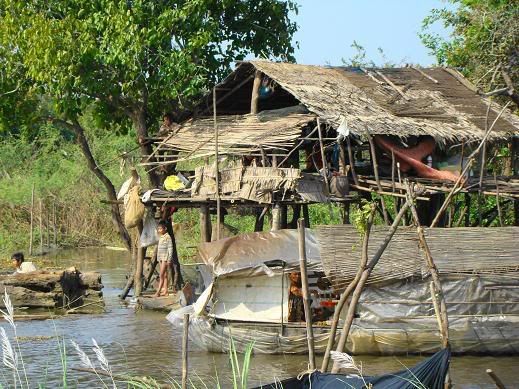 Riverlife - En route from Battambang to Seim Reip.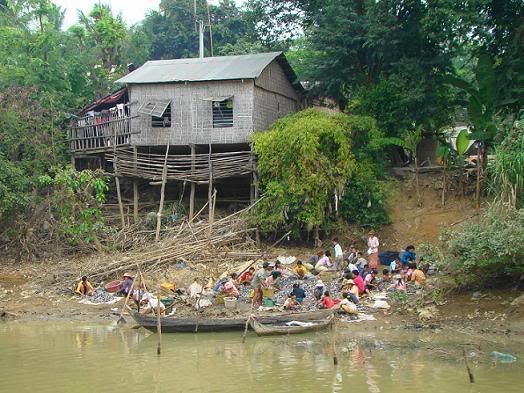 Sorting the catch - En route from Battambang to Seim Reip.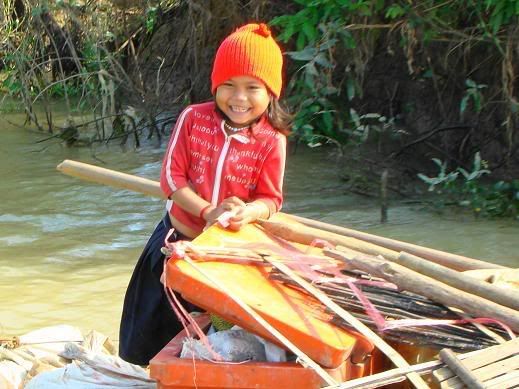 Growing up on the river - En route from Battambang to Seim Reip.
Day 5
Early rise for sunrise and Ankor Wat. No colours but amazing to see it slink out of the night. For two hours or so it was almost empty as most of the tourists had gone back to their hotels for breakfast. At 8.30am we left Ankor Wat with our tourguide and visted Ta Prom, Bayon, Victory Gate, Terrace of the Leper King/Elephant Terrace, Baphoun and back to Ankor Wat.
Three words will forever make me laugh.
Jayavarman the Seventh.
That night strolled around town and down by the river. Found a book stall which supports a victim of landmine's family. The books are all copies but you know where the money goes. Thanks Michael Moore J
I was shattered. Least I didn't fall down a drain again and I am doing it all and more again tomorrow.
Washing day at Ankor Wat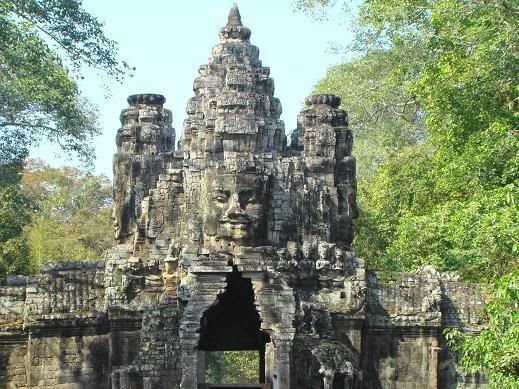 Victory Gate at Ankor Thom (not to be confused with the Looooooo-ser Gate).
Obligitory Ankor Wat photo.
On the walkway at Ankor Wat.
Day 6
Full day of exploring the other sites. Was fantastic to do at our own pace and just "plonk" when tired. Katie, Jim and I went to Prasat Kravan, Bantaey Kdei, Ta Prohm, Sras Srang, Ta Som, Preah Khan, Thommanon, Ta Keo and Ankor Wat for a late picnic lunch and sunset. For an hour and a half I went down to one of the gates, relaxed in the cool by the moat then walked through the "wild."
Had dinner at Khmer Kitchen – but it wasn't all that. Sure it was yummy but it is now so big (forget the hole in the wall description in Lonely Planet) that it didn't have the charm I was hoping for.
Day 7
Hello Phnom Penh.
Excellent hotel – Pacific Hotel on Monivong Blvd. Excellent location!!!!
Walked by the river and had sunset drinks at the FCC. Exceptionally touristy but hey – I am a tourist too!
Went to Lucky Burger – and it tasted like McDonalds did when I was a child – but by far the best part was their icecream!!! Hanging for some insanely good icecream? It is all about Lucky Burger!
Day 8
We had a guided tour of Phnom Penh.
S21 was very overwhelming and I broke away from the group to sit and think happy thoughts (but not smile). Choeng Ek was very touching as well and again I broke away and did the visit alone.
We did lunch at the Boddhi Tree – Yummo. Did a quick 360 around the palace, lightening tour of the museum (incredible what was saved). Super fast visit the Russian Markets (Seconds and Copies) and was plum tuckered out.
Day 9
"Welcome to the Meekong Limousine which we hope you will travel forever."
Fantastic trip to Sihanoukville – the karaoke tape in the bus was totally worth the trip.
Sihanoukville was very touristy and has that same "high season" mentality. I don't mind paying a fair price, but some were crazy. Visited Sohka beach for 2.5 hours before dinner at the Holy Cow. Damned awesome food – but fantastic find was the bakery between Holy Cow and Happy Herb Pizza. Highly recommend for snacks and travel food – their pork baguettes were insanely good! We were staying at CCS – large clean rooms and around 10 mins walk from the beach – but the motos were always around for a cheap quick lift. The only bad thing about CCS is their "Obtain Wedding" business – so there are wedding receptions on in the evening. On our last night at CCS one reception didn't end till after midnight.
Day 10
Up to Mt Bokor. Huge trip up. Rougher and longer than expected – but still good fun. It was a nice chance to chat and look at the views and wonder how the hell people on push bikes make it all the way up. Rather than going in a pick up, we went in two mini-vans. I think it would be faster in the pickups, but we would have been pretty burnt and dusty by the end I guess. Upon arrival we settled into the renovated hospital which is now the ranger station and guest house. We went for an afternoon guided walking tour with the culmination of sunset at the Golden Temple. This was a wonderful experience with the monks very friendly and chatty. The view was spectacular as well. I can only imagine how good it looks if the clouds roll in. Dinner was a bit bland but the beds were comfy. We had a fire outside which was lots of fun sitting around drinking and chatting till the fire was nothing but coals.
Day 11
A few of us woke up early for a dawn explore of Mt Bokor. I did the same route (less temple) and was happy with the difference in colours. Then it was time to head back down. Jess (TL) arranged for an hour jungle hike (optional) half way down. The plan was they would come out on the road as the vans arrived and we would continue on. I decided to stay with the vans and got in a bit of a nap. However we went faster than the hikers, and as such the vans had to turn around (a 9 point turn) and head back up to collect them. I decided to jump out and head on down the road until the vans caught up. I was so pleased I did. It was AMAZING! I walked for just under an hour before the vans caught me up, but I made it out of the rough section and only had another 15 mins or so before the bottom. It was then back to Sihanoukville. I was HANGING for a chicken sandwich at Holy Cow!!! So I was off like a rocket – only road works had cut the water to Holy Cow and they were closed. So I had lunch at Happy Herb – they had a fantastic green salad.
Day 12
"Free day." I decided to head to the beach and spent most of the day at the private public section of the beach. I was the only person there so wasn't charged the $1. Back at the hotel I got organised and then headed up to StarFish which is a café run for the employment and skill development of disabled Cambodians. It was "fine" and it was nice to help a charity but other than the cookies, and charity aspect I wouldn't recommend. I ended up back at Happy Herb for dinner – another big green salad and this time the vege pizza with extra garlic and prawns. Not on the menu but awesome. Don't bother with the garlic bread – when it grows up it wants to have some garlic on it. Hehehe. Back at the hotel I finally slept with my ear plugs in and a pillow over my head thanks to the midnight "obtain wedding".
Day 13
Today we travelled to Trat in Thailand – the end of our Cambodian adventure. It involved us heading to the wharf, jumping on the boat (proper commercial high speed ferry), and head across the water to the border. This border crossing made me appreciate how lucky we were on the way in. One window, no shade, harsh sun, long line. Then on the other side, there weren't enough busses to all the tourists to Trat, so we had to wait while two mini vans were secured for us – and Jess didn't let us down – like she ever would. The road to Trat was such a difference to Cambodia – good roads. Our hotel (name?) was clean and central, but Trat was a bit of a hole. A quick visit to the markets for dinner and I was out for the count.
Day 14
Travelling back to Bangkok. On the public bus, but the trip was very doable and relaxing. It was GREAT to get back to the New World Hotel in Bangkok. Only the second time in the trip that we went back somewhere – so knew the way around. I went to Kao Shan Road but became quite ill after about an hour and headed back to the hotel to throw up in peace. A shower and a nap later and I was fine again. We had drinks at the Corner Café then said our goodbyes. I headed back to Kao Shan Road for some last minute present shopping and dinner. I was back at the hotel by 9pm, packed and in bed by 10pm.
Day 15
Back to Australia. I highly recommend a morning flight out. Rather than the talked about 2 hour slog in traffic to the aeroport, I was there in under 45mins. I booked a taxi the night before at the hotel, and as I was waiting to speak to the booking service, the gentleman infront of me was booking one for the same time. So we doubled up. Very convenient. My flight was at 8am, and I arrived just before 6am at the aeroport. No line – straight through. Customs was a little slower with around 15 mins to get through – but still very fast. I had some sushi for breakfast and then had a wonderful flight back home (except for my sinuses hurting like hell even with drugs). I was in an exit row in the window seat – so it was feet up, chair back and bliss for 11 hours. So nice to be home!!! I love to travel, but I am Australian and love my country, my town, my friends and truly appreciate how lucky we are – but at the same time it makes me want to work harder for those who live not as well as me, both here in Australia and abroad.
Stay turned. More to come including those obligitory photos of Ankor Wat, River Life, Lake Life and hanging out downtown in Phnom Penh.
I will copy my "copy" and post it tomorrow.
Oh and once this is donw - trip report of 5 days diving the Similan Island, and Richeleau Rock (with lots of photos!!!)